Welcome to this week's "Currently" post!
CURRENTLY:
LOVING
My dinosaur necklace, which I picked up at the Modcloth In Real Life popup store that appeared here in Austin. I'm a sucker for dinosaurs and jewelry, so it's no surprise this particular piece caught my attention. I love the mix of whimsy and delicacy, and the fact that it pretty much goes with everything. The best part? My mom named it Emily Brontë-saurus.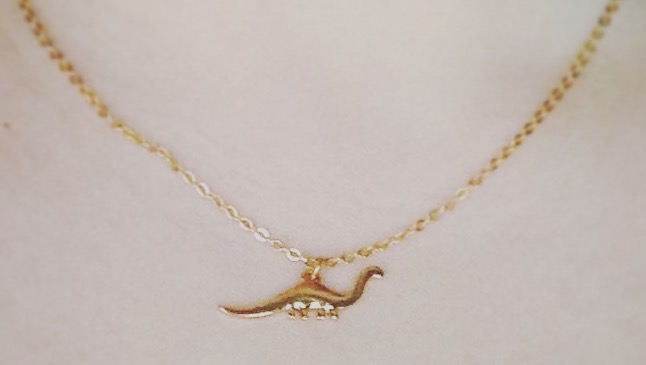 READING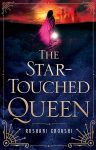 In the last week or so, I've read Roshani Chokshi's The Star-Touched Queen and The End of the Sentence, a novella by Maria Dahvana Headley and Kat Howard. I've been excited for the Star-Touched Queen for a while; not only did the synopsis sound fantastic, but Roshani is part of the crew at The Hanging Garden, so I really wanted to support her work. It did not disappoint. With lush prose and an intricate plot based on Indian mythology, the book twists and turns repeatedly, leaving both the reader and the protagonist unsure whom to trust.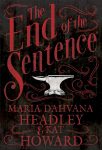 As for The End of the Sentence, I picked it up as soon as I realized Maria Dahvana Headley had a hand in it. I loved her book Magonia and I follow her Twitter feed obsessively. She's a cool New York chick who creates fantastic worlds of monsters and beasts. This particular novella is a weird little thing. The recipe for this plot seems to be a dash of horror story, a sprinkle of fairy tale, and a hefty pinch of Oregon ghost gothic-ness. I'm still not sure I fully understand what happened (and what some of these characters actually were) but it was an interesting little read that I knocked out in a couple of hours.
WATCHING
If you're not watching Last Week Tonight with John Oliver, get thee to the television. The show airs on Sunday nights on HBO, so if you don't have that premium channel, then I suggest you head to YouTube. Part comedy show, part scathing commentary of world events, the show is the clear successor to Jon Stewart's Daily Show. However, HBO gives Oliver leeway that Stewart didn't have, which means Last Week Tonight is funny and foul, with a budget that allows for everything from incredibly good sex education films to the founding of a totally ridiculous but legal church. He's given away premium baseball tickets and routinely takes on the likes of Donald Trump and Sepp Blatter. But under the veneer of comedy is a news program aiming to highlight serious U.S. issues, and we should all be paying attention. I learn something new every week.

LISTENING TO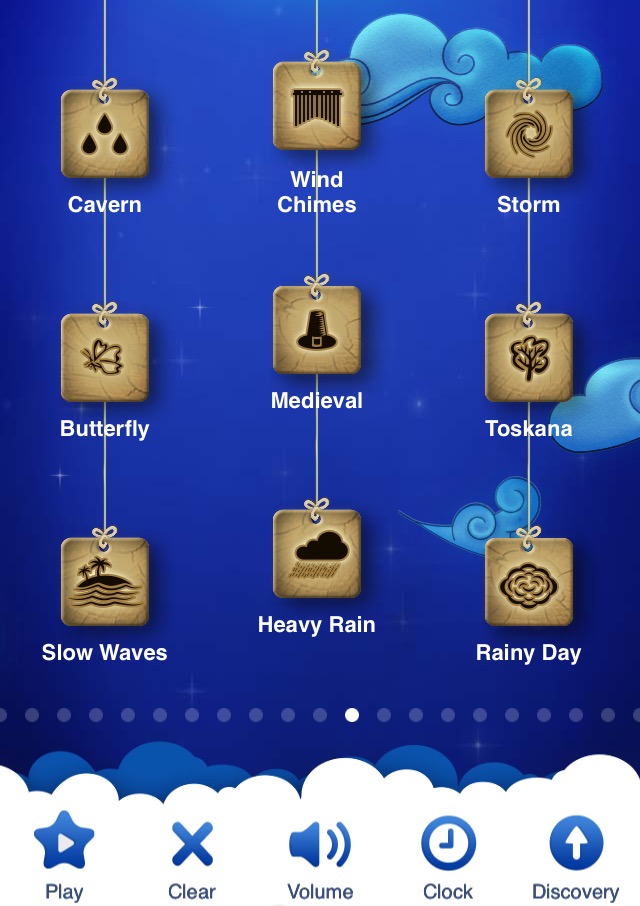 In the last CURRENTLY post, I mentioned that I almost always write to the Rainy Mood app. Leave it to me to prove myself wrong just as soon as I put it in writing. I've found that with my current writing project, the sound of rain isn't always quite right. It will work in a pinch, but to get the atmospherics right, I've been using an app called Relax Melodies. It includes rain, but also lullabies, wind chimes, birds, waves, ice, cat purrs, and more. The app allows you to layer multiple sounds and adjust the volume of each, creating a customized playlist of sorts. By combining some of the specialty sounds in the app, I've been able to generate the perfect mood "music" for this project.
THINKING ABOUT
Scotland! For a few years now, I've been dreaming of visiting this gem of an island. Every picture I see of Edinburgh is phenomenal, and the University of Glasgow offers a master's program that I would love to do. Not only that, but my writing mentor lives in Scotland, so it would be delightful to pop in and say hi. Castles, bluffs, and more tartan than I can imagine—what's not to love? I'm not-so-secretly trying to plan a vacation for later this year, so I guess we'll just have to see whether it all comes together.
ANTICIPATING
I recently developed a fairly severe and uncomfortable reaction to certain shampoos and conditioners, even those that are supposedly all natural (whatever that means). I do still have my reliable Soignee products that don't seem to cause a reaction, but that particular brand tends to leave my fragile hair dry and a little coarse. I consulted with my stylist and she recommended R&CO hair products, which are free of all the nasty stuff (gluten, animal testing, etc.) and are supposed to be really great for the hair. I bought the Gemstone shampoo and the Dallas conditioner and am looking forward to trying them. I have high hopes—fingers crossed I'm not allergic!
WISHING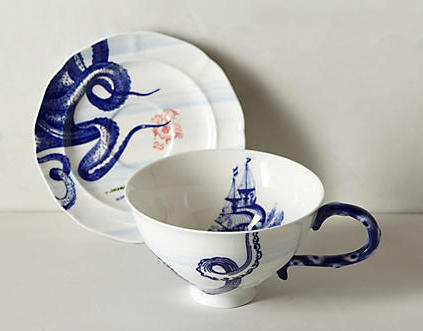 That I owned this gorgeous, whimsical tea mug and saucer. I have a weird love for all things octopus, and this feeds it in a classy (not creepy, Kraken-y, Cthulu) way. Anthropologie sells this beauty for $18, which is pricey for a mug but not that expensive in the grand scheme of things. Honestly, if any of the local stores had it in stock, I'd probably already own it by now. It's just a matter of deciding whether I can justify the cost + shipping…and find a place for it in my overstocked cabinets.
MAKING ME HAPPY
Having silly fun with SnapChat filters. I resisted snaps for a long time, because 1) I didn't want to have to keep up with another form of social media, and 2) I didn't really understand how SnapChat worked. I still don't use it that often, but I have to admit that it's a fun app, and I like the temporary nature of it. It's fun to play around with the goofy filters and send pictures to friends, and I really enjoy following people's stories. As you can see from the photo, I've turned myself into everything from a jungle cat to a demon to a zebra. Some filters are fairly permanent, but others change out every day, which keeps the experience fresh and entertaining.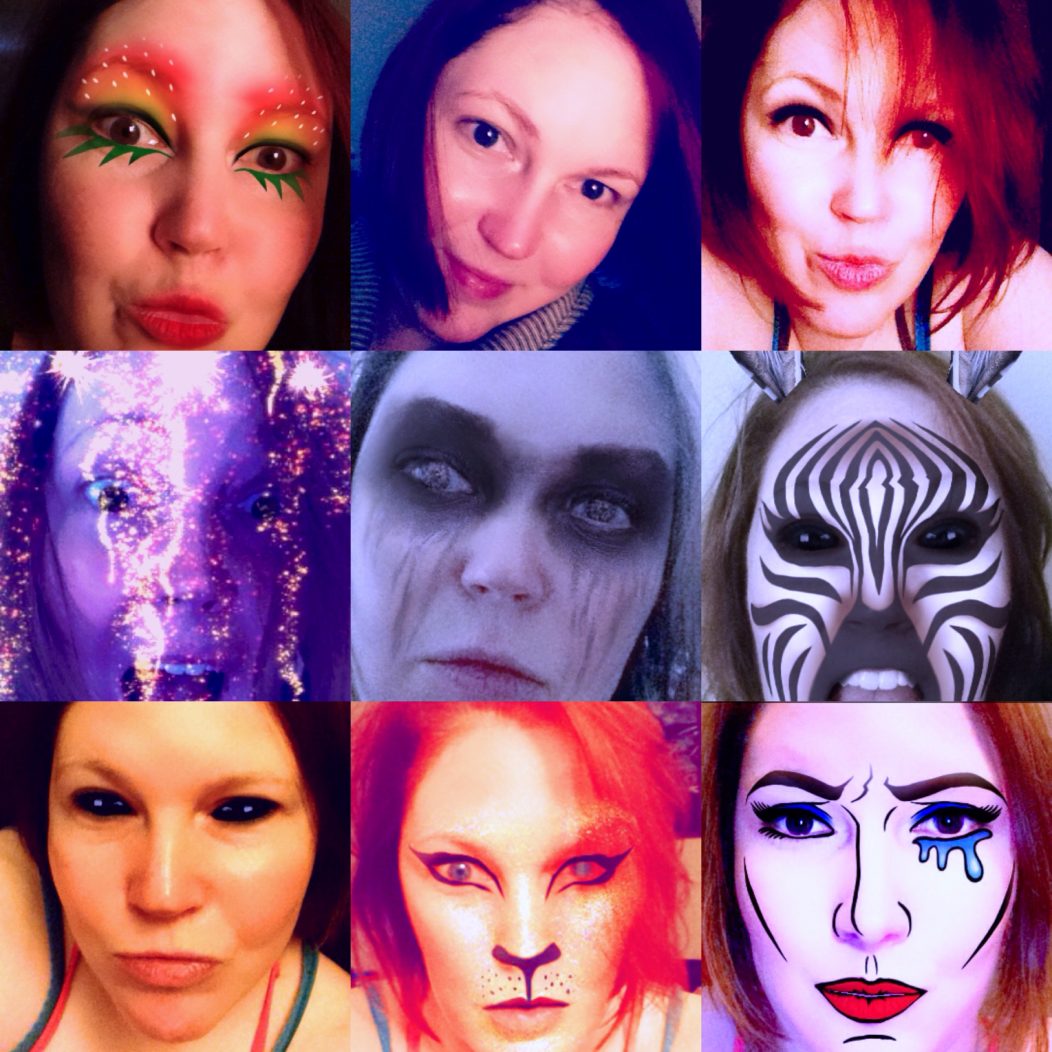 That's it for now! See you in two weeks with more faves.