Welcome to this week's "Currently" post!
CURRENTLY:
LOVING
Right now I love that I got to visit with my amazing high school BFF this past week. I hadn't seen her in 14 years, but the minute I walked in her door it was as if no time had passed. We immediately fell into our old patterns, and spent hours laughing, singing, and drinking wine. Not only was it great to just hang out with her, but it was lovely seeing how happy she is. She has a gorgeous house, a wonderful, doting hubby, and beautiful kids. Seeing her happy makes me happy and I can't wait until we see each other again.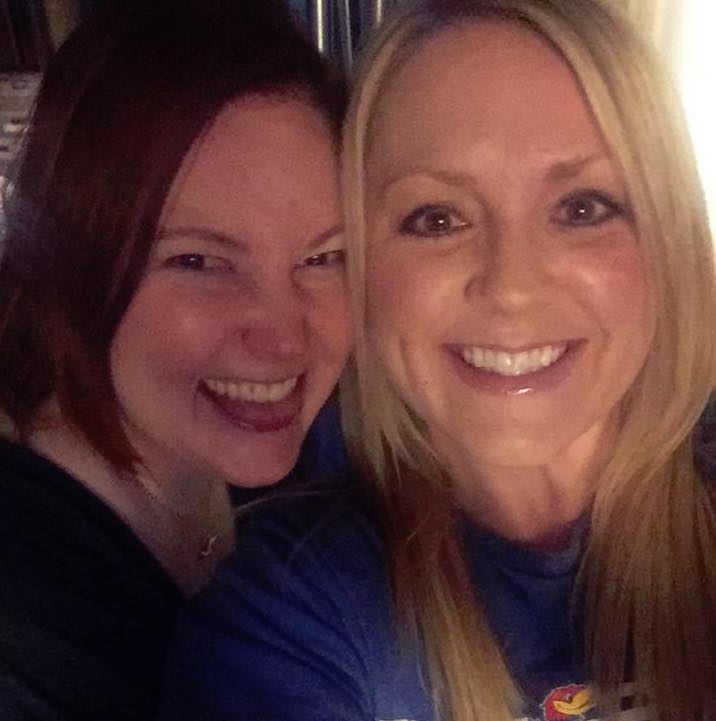 READING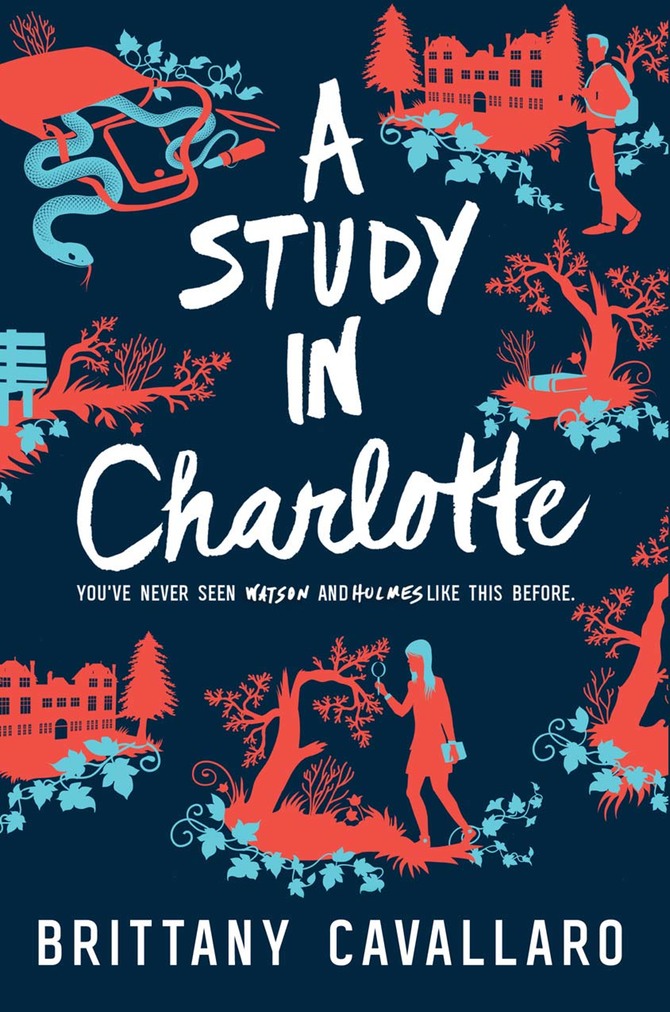 I was browsing Goodreads lists one day, and just happened to stumble upon A Study in Charlotte. As a lover of all things Sherlock Holmes, I was immediately intrigued by the title and fascinated when I learned that the book is a modern YA Sherlock retelling, featuring a female Holmes and a male Watson who attend boarding school together. Here's the gist:
The last thing Jamie Watson wants is a rugby scholarship to Sherringford, a Connecticut prep school just an hour away from his estranged father. But that's not the only complication: Sherringford is also home to Charlotte Holmes, the famous detective's great-great-great-granddaughter, who has inherited not only Sherlock's genius but also his volatile temperament. From everything Jamie has heard about Charlotte, it seems safer to admire her from afar.
From the moment they meet, there's a tense energy between them, and they seem more destined to be rivals than anything else. But when a Sherringford student dies under suspicious circumstances, ripped straight from the most terrifying of the Sherlock Holmes stories, Jamie can no longer afford to keep his distance. Jamie and Charlotte are being framed for murder, and only Charlotte can clear their names. But danger is mounting and nowhere is safe—and the only people they can trust are each other.
While Charlotte herself is a rather cold character lacking the original Sherlock's charm, Jamie more than makes up for it with his humorous narration and never-ending frustration with his Holmes. Plus, Jamie is a brawler, and I have a weakness for fictional guys who are willing to throw a punch. This is a fun, engrossing read for Sherlock fans, and the best part is that there are two additional forthcoming books in the series.
WATCHING
Every summer, my husband watches HBO's Silicon Valley, and I always find myself getting sucked in. It's not really the type of show that generally appeals to me—it's about nerdy programmers trying to set up their own compression company, but the humor is excellent. It was created by Mike Judge (of Beavis and Butthead fame), and something about the never-ending mishaps and rap soundtrack entertains me. Plus, the cast is great. I do recommend checking it out, particularly if technology wars are relevant to your interests.
LISTENING TO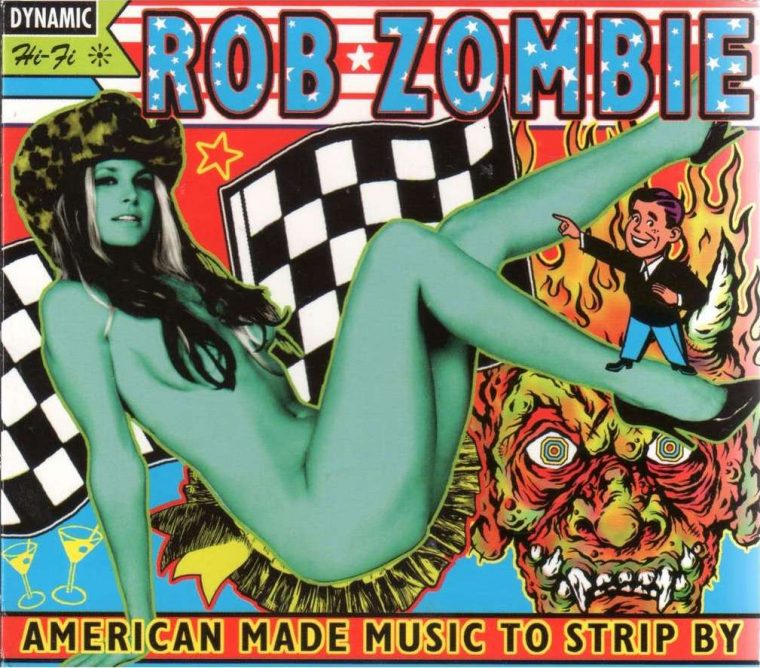 As someone who was a teenager in the 90s (which was like the pinnacle of all things music, fashion, and film), as well as a former Barnes and Noble music manager, my musical taste is pretty diverse. My mother always, always had music playing when I was growing up, so it was normal for me to wake up in the morning to Pachelbel's Canon in D and fall asleep to the Beatles' Rubber Soul. Consequently, I started developing my own musical preferences at a young age, listening to everything from 2Pac (California Love is my go-to karaoke song) to Sarah McLachlan. My exposure to all things weird and wonderful at B&N only compounded that. Lately, I've been in the mood for classic Rob Zombie/White Zombie. Weird as that seems, I love me some Living Dead Girl or More Human Than Human. I feel like next week I'll be on a trance kick, but for now, turn up the La Sexorcisto.
THINKING ABOUT
These Supernatural gifs I put together. I posted these on Twitter, and they're a pretty accurate reflection of my writing process most of the time. Although I will admit that things have been going better lately, because I finished a massive revision and started drafting an exciting new project. But let's be real—I'll feel like this again soon. It's all part of the deal.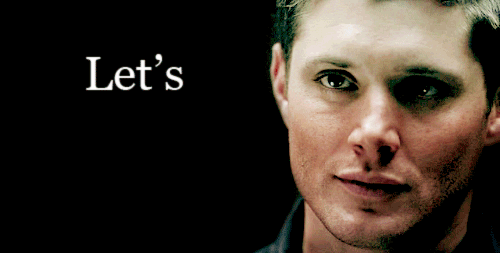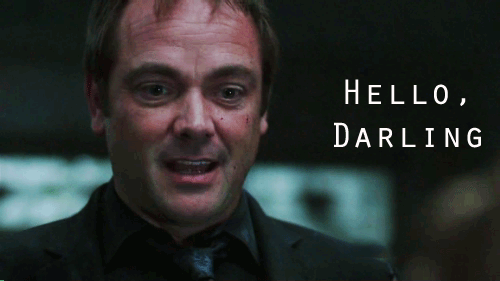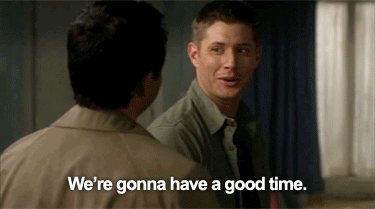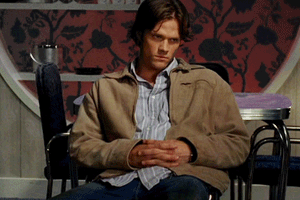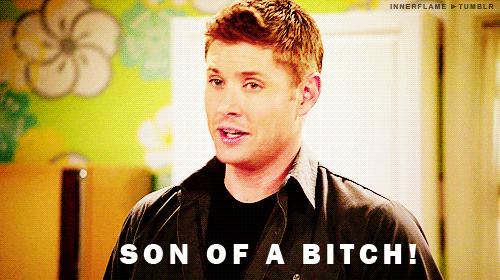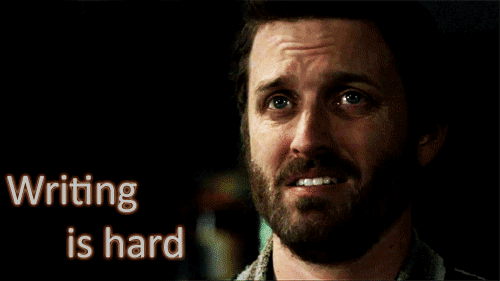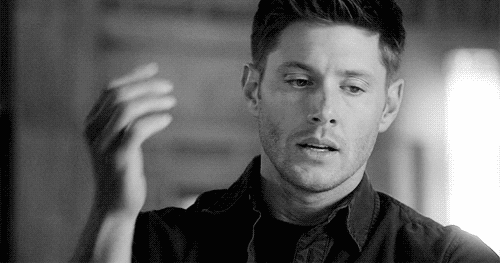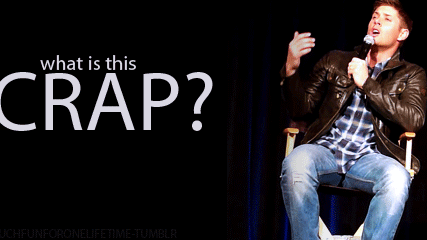 ANTICIPATING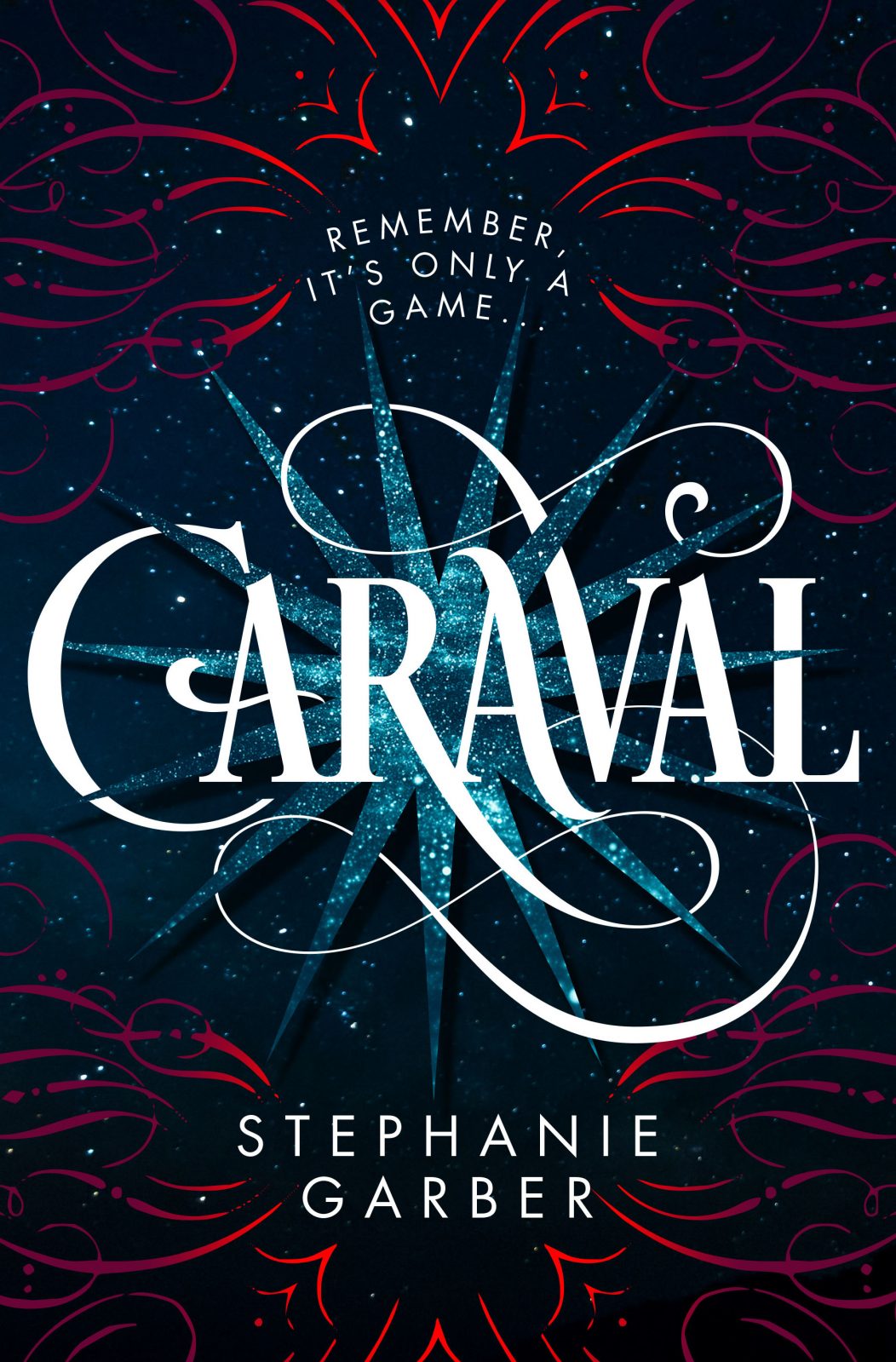 I've been eagerly awaiting Stephanie Garber's Caraval since I first saw the cover. Here's the jacket copy:
Before you enter the world of Caraval, you must remember that it's all a game . . .
Scarlett has never left the tiny island where she and her beloved sister, Tella, live with their ruthless father. Now Scarlett's father has arranged a marriage for her, and Scarlett thinks her dreams of seeing Caraval, the legendary, once-a-year performance where the audience participates in the show, are over.
Then, Scarlett's long-dreamt of invitation to Caraval finally arrives. So, Tella enlists a mysterious sailor's help to whisk Scarlett away to this year's show. But as soon as the trio arrives, Tella is kidnapped by Caraval's mastermind organizer, Legend.
Scarlett has been told that everything that happens during Caraval is only an elaborate performance. But she nonetheless soon becomes enmeshed in a game of love, heartbreak, and magic with her sister, with Legend, and with the other players in the game. And whether Caraval is real or not, she must find Tella before the five nights of the game are over, a dangerous domino effect of consequences is set off, and her sister disappears forever.
Doesn't that sound tense and compelling? It's not set for release until January 2017, but I happen to know someone who acquired an ARC. Rumor has it that I can borrow said ARC soon, so I'm hoping to devour this beauty in the very near future.
WISHING
I've just started taking Great Lakes Gelatin Collagen Hydrolysate, and I'm really hoping/wishing that it helps me with some of my health issues. I don't want to go into a lot of details here, but I have some autoimmune problems that have caused weight gain, insomnia, hair/skin troubles, etc. Evidently, this collagen supplement is supposed to help with all those things and more. I was hesitant at first because it's derived from cows, and my natural state is vegetarian/vegan. However, I've had to be a bit more lenient with my eating choices as I deal with this situation, so I'm trying to make the best of it and just know that I'm making these decisions for my health.
MAKING ME HAPPY
I recently inherited this set of antique silver spoons from my grandmother. They're miniature, and each one has a different floral handle. Presumably they were designed to go with appetizer settings, perhaps to serve condiments such as mustard and relish. My plan is to use them as sugar and spice spoons, anytime I need a sprinkle of cinnamon or granulated maple syrup. I love the idea of using beautiful tableware and silverware for ordinary tasks, which is why I collect this sort of thing. I also have an antique porcelain hot chocolate set coming to me, complete with a carafe and four tiny cups. I may not have dinner parties very often, but there's no reason I can't use beautiful dishes and cutlery for myself.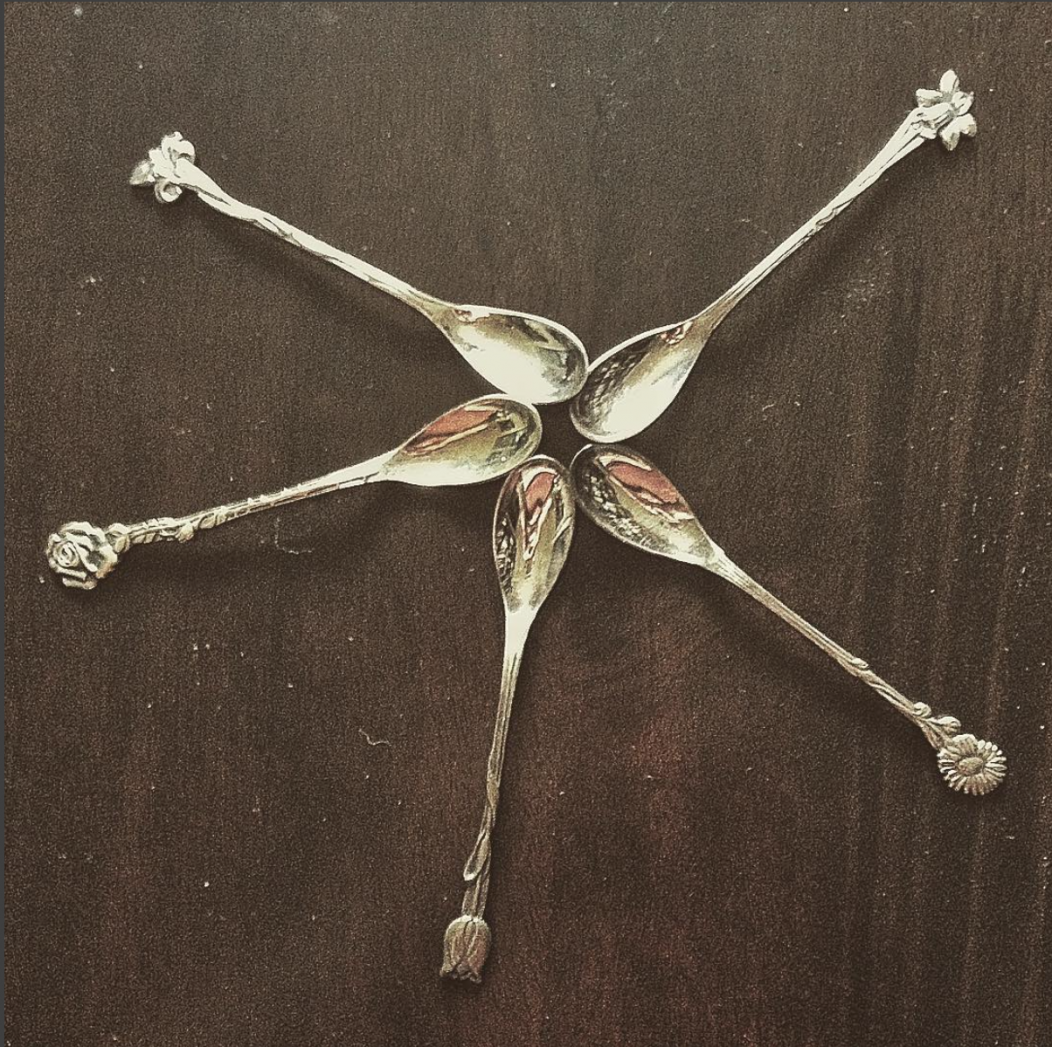 That's it for now! See you in two weeks with more faves.