Welcome to this week's "Currently" post!
CURRENTLY:
LOVING
I really, really like e.l.f. cosmetics. They are incredibly affordable, and I find that the products are pretty good, especially considering the price. I've been using them for nearly a year now, and the primer, foundation, and loose powder are a part of my regular makeup routine. Lately, I've been on the hunt for a matte eyeshadow, and it turns out that they are super hard to find. All the shadows at my local stores have shimmer in them. So I checked out the e.l.f. website, and sure enough, they carry a matte palette. On a whim, I snagged that, a second shadow set, and a new liquid liner, as well as two new lip colors, a new face palette, and a new angled brush. Several things were on sale, and my purchase came with three free gifts (a blush palette, a lipstick, and a mascara) and free shipping, so the total cost for everything in the photo was $29. Seriously, that is a great deal.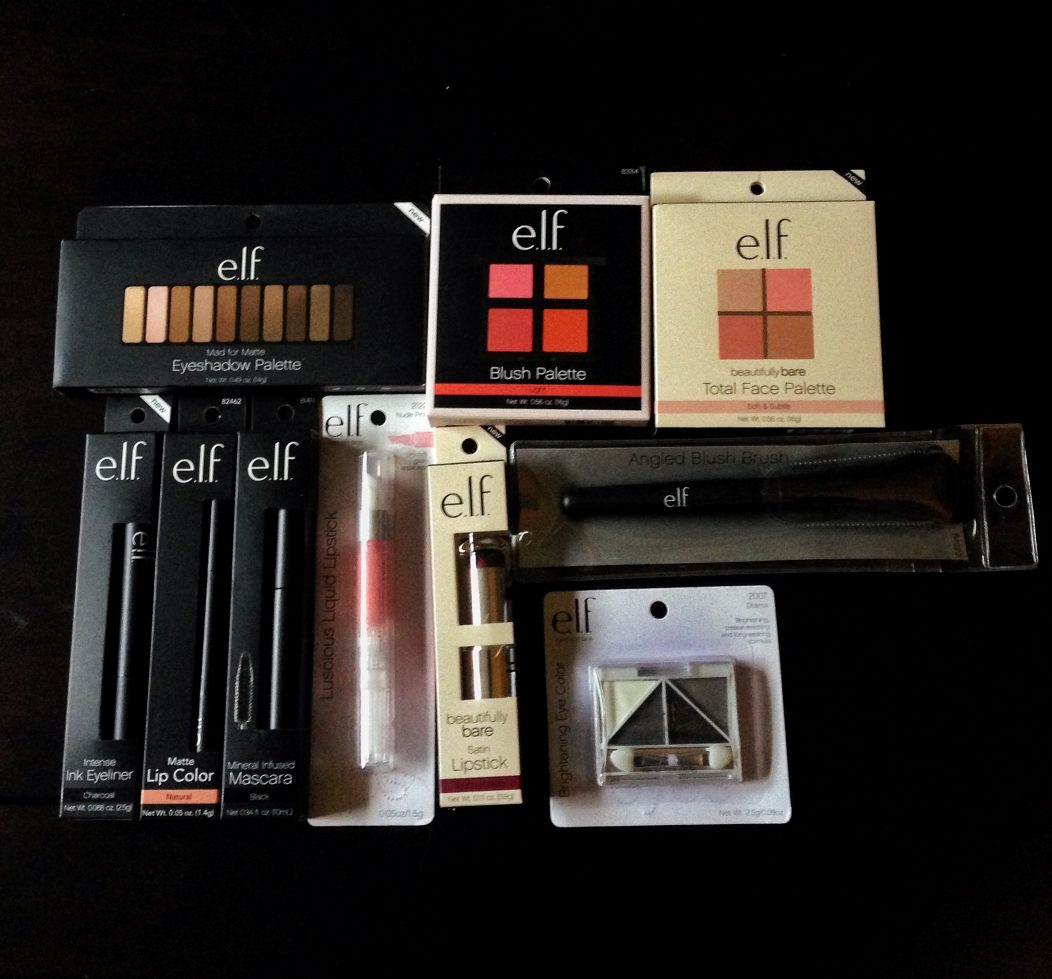 READING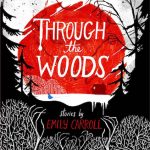 I've been reading a couple of things lately. The first was Through the Woods, a graphic novel collection of five creepy fairy tales. I'm working on my own graphic novel (more on that below), so I've been boning up on graphic novels as a format and trying to figure out which ones I like and which ones don't appeal to me. (Next on my list is Lumberjanes.) I love fairy tales and creepy, supernatural things, so Through the Woods seemed like a natural fit for me. I liked it quite a lot, and of the stories in the collection, I think my favorite is "The Nesting Place." The tales are all ambiguous, but that one struck me as the most horrifying.
I'm also reading A Natural History of Hell by Jeffrey Ford. It's thirteen short stories that deal with the mysterious and the macabre. I'll let Goodreads tell you more: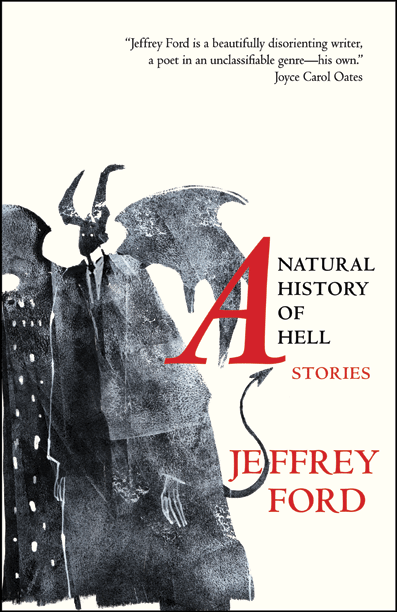 Emily Dickinson takes a carriage ride with Death. A couple are invited over to a neighbor's daughter's exorcism. A country witch with a sea-captain's head in a glass globe intercedes on behalf of abused and abandoned children. In July of 1915, in Hardin County, Ohio, a boy sees ghosts. Explore contemporary natural history in a baker's dozen of exhilarating visions.
I love how weird and wacky these stories are, and I'm very impressed with how the narrative voices changes in each story. That's a hard thing to do, and Ford manages it quite well.
WATCHING
Now that the show is over, I decided to marathon all eight seasons of Castle. If you're unfamiliar with it, it stars Nathan Fillion as a mystery writer who teams up with a homicide detective (Stana Katic) to solve weird and wacky cases. They have a bit of a Mulder and Scully dynamic; Detective Beckett is very logical and follows the evidence, whereas Castle is filled with childlike wonder and loves to make up stories that could explain the various cases. As a writer, I figured it was past time to watch this show. And while Castle and Beckett are certainly the leads, the supporting cast often steal the show. I particularly like Detectives Ryan and Esposito, who are the perfect foils for Castle and Beckett. For me, they really make the show, and they often get the best lines.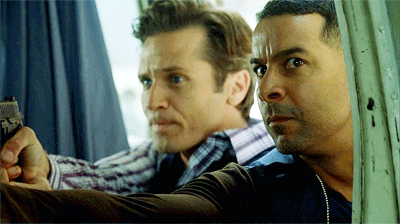 LISTENING TO
I'm working on a handful of dark, moody pieces, and I sometimes need dark, moody music to set my writing tone. I'm a little burned out on everything in my iTunes library, so I did a little googling to see what YouTube might have to offer. It turns out that there are hundreds (maybe thousands) of instrumental pieces out there. Music for writing, music for meditation, music for feeling sad…you name it, it's there. I discovered this piano and violin piece that I like — it sets a nice saturnine tone for writing.
THINKING ABOUT
As I mentioned above, graphic novels have been on my mind lately. Not only have I been slowly exploring the medium, but I seem to have inadvertently created my own. I recently wrote a short story collection that has an art component. Initially, I thought I could use stock imagery to illustrate it, but further analysis suggests that it would fare better in graphic novel form. I cannot draw (like, AT ALL), so now I'm in the midst of learning how to do a layout and script for a graphic novel so that I can hire an artist to illustrate the project. This isn't something that will happen quickly, but I hope to eventually finish the book and publish it.
ANTICIPATING
I have two things tentatively scheduled for October that I'm excited about. The first is the Texas Teen Book Festival, which is an annual event here in Austin. The event always draws big names from YA and MG, and this year is no exception. The keynote speakers this year are Laini Taylor and Leigh Bardugo. Renee Ahdieh, Roshani Chokshi, Traci Chee, and many more will also be there.
I also hope to attend a local writing retreat with some friends. We've been planning it for most of 2016, but keep running into scheduling issues. At the moment, it looks like it might happen in mid-October, and I'm keeping my fingers crossed that everything works out. I could really use a few days of focused writing time; I have so many projects in the works and I'd like to make progress on all of them!
WISHING
At heart, I am an organized soul. Give me binders and to-do lists and I'll be content for hours. A shopping trip to an office supply store makes my heart sing. So it's no surprise that I'm attracted to the idea of bullet journaling. Bullet journals are inherently flexible and tailored to the user, but at its most basic core, the bullet journal is a combination planner, to-do list, and journal. The most complicated version of the journal involved making an index and breaking things down into tasks, events, and notes that can be prioritized and migrated throughout the notebook.
However, not everyone's bujo needs to be so structured. A bujo can be a simple list. A weekly calendar. A monthly at-a-glance. A fitness tracker. A sleep tracker. A place to scratch down idle thoughts. Or—and this is what's so cool about them—it can be all of the above. Because the user designs the layout, you can style it to fit your needs. Maybe you want to plot out the month on one page, and then follow it with daily tasks. Totally cool. Maybe you want to keep your workout tracker at the beginning, and then follow it with a sleep log and a grocery list. That works. All you really need is a pen and a notebook, although highlighters, nice handwriting, and a talent for doodling help take the planner from efficient to stylish.

I've been eyeing this method of journaling/planning for a couple of years now and wishing I could do it, but I haven't made the leap. I'm not so great at the drawing and penmanship aspects, and I haven't yet determined which layout would work best for me. But I'm tired of to-do lists and post-it notes all over the place, so I think I'm going to start working with the bujo system in 2017.
(Bullet journal photos courtesy of Liza Kane.)
MAKING ME HAPPY
Salty snacks. Whole Foods hummus with crackers, Whole Foods sharp cheddar, avocados with salt, pimiento-stuffed olives…
Also, this tweet from my dear friend Lina. I think this is a smart and wise decision. I've also been broadening my reading parameters, and I want to make them even bigger. After all, the more you read…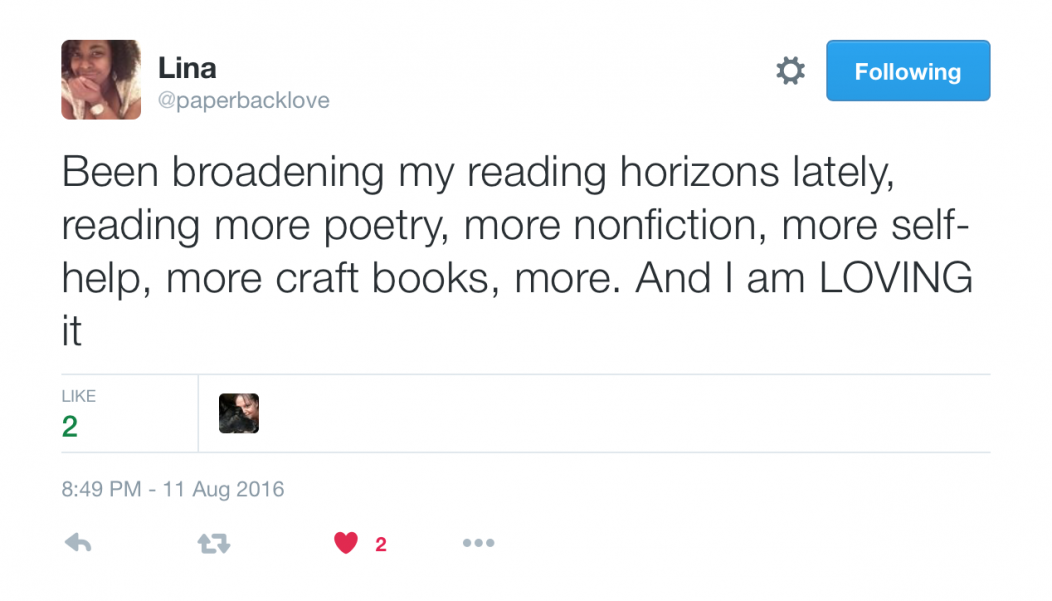 That's it for now! See you in two weeks with more faves.